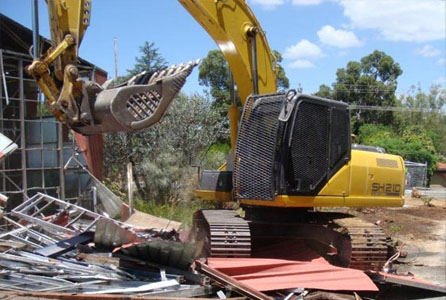 Demolition Licence
A demolition licence is virtually the same thing as a demolition permit though what it's called differs between areas. A demolition licence must be obtained by law in order to engage in any type of demolition. A demolition licence approves that the removal of a building or buildings from a specific piece of property can be performed. As a general rule, a licence will not be required if you are tearing off your patio or garden shed; however, if a large building or structure is being destructed then a demolition licence is indeed required. If you are found to be performing demolition services without the proper licence, you could be fined a large sum of money and could find your way to a court room.
How Long Does a Licence Last?
Something that will vary from city to city and state to state is the length of time that you have to demolish a structure or building once you have obtained a demolition licence. Some locations will allow six months while some are known to only allow three. Your city or state could be more or it could be less so it is important that you request this information upon obtaining the licence for demolition.
Utilities, Rat Baiting, Asbestos
Prior to a demolition licence being issued to a demolition company or contractor, the disconnection of utilities must be performed. You will be responsible for calling all the utility companies to request that the services be disconnected. You will need to call the gas company, electric company, water company and any other utility company that has utilities on site. Prior to receiving your demolition license, you may be required to provide written confirmation that these services have indeed been disconnected, capped or sealed.

In addition, a building must be rat baited, which is generally performed within the roof spaces and beneath the building, as well as checked for asbestos prior to demolition operations. If asbestos is found, it must be properly removed according to OSHA regulations prior to the demolition taking place.
What You Need to Obtain the Licence
As a general rule, this is what you will need to obtain a demolition licence and will need to accompany your application:
The role of the applicant in the demolition project.
The client's (customer's) name as well as contact information.
The work site address.
The date of when the demolition is scheduled to take place.
A full description of the demolition operations that will be executed.
A full description of the buildings and/or structures that will be demolished.
Please note that requirements will vary among cities and it is best to contact your local city hall to find out what needs to accompany your demolition licence application to ensure that you have covered all bases. For example, some may require that a color photograph accompany your application. In addition, the confirmation of utilities being disconnected, the site being rat baited and the assessment and removal if necessary of asbestos, as explained earlier.