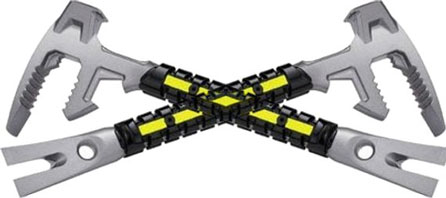 Demolition Tools
When it comes to demolition tools, there's tons of equipment available, and because demo teams need to have all of the tools required for quick and efficient demolition, there's no harm in checking a few lists to make sure you have it all. A demolition tool list below contains plenty of equipment, but the following equipment isn't the end of the list.
Hydraulic Splitters
Steel Wire Rope
Rotary Hammer
Chipping Hammer
Gas Cutters
Demolition Hammer
Diamond Wire Saw
Pavement Breaker
Hydraulic Hammer
JCB's
Mounted Breakers
Hydraulic Concrete Crusher
Pneumatic Hammer
Pock Lain's
Getting Deals on Used Equipment
The real estate market has seen phenomenal growth in recent years. Construction activities have increased leading to a parallel growth in the demand for salvage construction and demolition equipment. Startup construction firms who do not have adequate financial resources can buy used or refurbished salvaged equipment through certified professionals. It's important to check the performance of salvaged demolition tools as some machines are made to look good from the outside and may not function properly in real test conditions. However, some salvaged equipment will perform well during initial checks but could malfunction after a short time. To avoid this, users are advised to opt for rebuilt salvage equipment that carries a limited-time warranty.  

Salvage construction equipment consists of machines such as forklifts, dump trucks, earth moving equipment, cranes and megaton concrete mixers that have been rendered non-operational due to fire, storms or regular use. Demolition companies that are facing a resource crunch can purchase salvaged equipment available at reduced prices. Salvaged demolition tools consist of used as well as rebuilt equipment certified by salvage firms. These firms operate websites that contain detailed lists of available salvaged equipment, prices and shipping details. Potential buyers can also check online for used or rebuilt machinery parts.

Salvaged demolition tools and equipment can be purchased by demolition companies that operate cross-country and want to avoid hassles of transporting heavy construction equipment to the work site and back to rental companies. The nearest salvage firm to a project site can be found online and equipment will be directly shipped to the work site. This saves transportation costs of getting large construction equipment from a centrally located office to projects on the outskirts of the company's effective range of operation.
Dexpan: Demolition Without the Boom
A number of demolition tools are rebuilt, but for some there really aren't any replacements. Non-explosives are one such type of demolition tool. You can buy a non-explosive controlled demolition agent called Dexpan in powder form. This powerful tool, when combined with water, offers 18,000 PSI expansive strength. When placed into drilled holes within foundation concrete, the Dexpan powder goes about breaking rock and reinforced concrete in a safe and silent manner. It's an alternative to some traditional demolition tools, which may or may not serve your purpose. Its popularity lies in the fact that you wouldn't need special shipping, high secured storage or blasting permits to get your hands on the Dexpan powder.