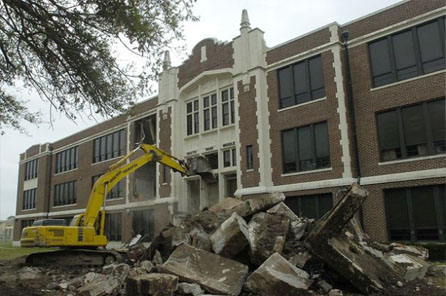 Ambush Demolition
When searching for a demolition company, it is important that you choose a respected and reputable demolition company that can meet and even exceed your demolition needs. It is better to choose a company that can take care of everything for you need from start to finish rather than having to hire something out at a later date. Known to serve customers throughout the majority of counties within the large state of Texas, Ambush demolition is ready for any type of project that clients may require. Ambush Demolition in Houston, Texas, is one full service demolition company that specializes in all types of demolitions projects including but not limited to both commercial and residential demolition projects.
Ambush Demolition currently provides free estimates to customers regarding their potential demolition projects. One thing that sets Ambush Demolition apart from their competitors is that they don't mind sitting down and explaining the entire demolition process with you so that you are knowledgeable about the entire process, you'll know what to expect and you'll be comfortable with what is going to occur during the demolition. The company welcomes any and all questions or concerns that you may have with the demolition you need.
What You Can Expect from Ambush Demolition
Many demolition companies don't give you an upfront idea of what you can expect their company to do; however, Ambush is completely different in that aspect. Here is what you can expect from them:
Groundwork project research will be conducted so that there are no surprises when the staff professionals get on the job site.
Permit applications are handled so that the customer does not have to stress about the things that they need in order to obtain approval on any permit application(s).
A plan of action is prepared ahead of time that outlines what will happen at the demolition site and how.
The plan will be executed not just on time but also within the estimated budget so there are no surprise, last minute costs.
Services Provided by Ambush Demolition
All demolition companies will provide different services when compared to other companies of the same type. Here is a look at the serves that are provided by Ambush Demolition:
Residential, commercial and industrial demolition.
Interior demolition for industrial and commercial properties.
Concrete demolition and removal including but not limited to sidewalks, patios and driveways.
House foundation removal.
Above ground and/or in-ground pool demolition and removal.
Garage or trailer demolition.
Clearing of site excavations.
Removal of fire damage.
Full and complete takedowns.
Clearing of land and removal of trees.
One Size Project Fits All at Ambush Demolition
Ambush Demolition is happy to work on any and all sizes of projects including but not limited to schools, hospitals, homes, malls, warehouses, residential, restaurants, strip malls, retail venues, industrial plant facilities and much more.

If you are looking for a full serve demolition company then contact Ambush Demolition today. After all, they will provide you with a free estimate so you really have nothing to lose.