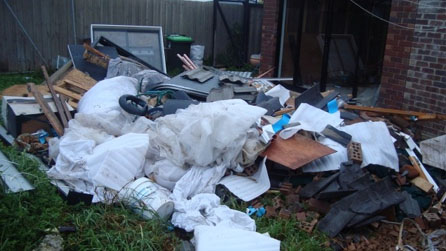 Paul's Rubbish Removal Service
Not all companies within the demolition industry are actually companies that provide demolition services, (which are the processes of destroying buildings and/or structures through the use of explosives, heavy machinery or other available appropriate means like labor teams, for instance. Some companies will offer dumpster service for the demolition job site while others will provide removal service of the rubble that comes as a result of any demolition project. The latter is exactly where Paul's Rubbish Removal Service comes in and takes charge.
What You Can Expect from Paul's
Paul's Rubbish Removal Service is well known throughout the Boston area and are ready to tackle any job that you want to hand over them to you – within certain limits of course. They ensure that every job that they perform is done right the first time. Best of all, if you can on Tuesday, you can probably get the job done that very same day. So, if you found out at the last minute that you are going to have to host a huge party at your house this weekend, but have a huge pile of junk right beside your house that looks awful, call Paul's Rubbish Removal Service because they'll be able to come out and get the job done the same day so that you can throw your party in a well organized and gorgeous setting without that junk pile.
Services Provided by Paul's Rubbish Removal Service
Paul's is happy to provide their services at both residential and commercial buildings while providing a variety of different types of services and cleanouts. Here are a few more specific services to give you a more in-depth look at what Paul's Rubbish Removal Service will actually pick up from you.
Residential and Commercial.
Construction Sites.
Storage, Garage and Basement Cleanouts.
Estate Cleanouts.
Office Cleanouts including printers, monitors and computers.
Yard Cleanouts including trash, leafs, general rubbish including carpet and other odds and ends, etc.
Removal of furniture including couches, chairs, tables, etc.
Removal or appliances including dishwashers, stoves, refrigerators, microwaves, washers and dryers, air conditioners, etc.
Removal of tires including bike tires, construction equipment tires and vehicle tires.
Recycling
Paul's Rubbish Removal Service will recycle rubbish whenever they can and will recycle products that simply can't be thrown in the dumpster or landfill such as televisions, computers and any other products that contain lead, mercury, cadmium or similar chemicals that prove to be harmful and disastrous to the environment. In fact, when items that contain these chemicals are crushed in landfills, the chemicals are then exposed to the environment through the air and water leading to contact with humans and animals. To prove how dangerous these chemicals are to one's health, they have been linked to serious neuropsychological and reparatory disorders.

According to a user on SuperPages, who left a review of Paul's Rubbish Removal Service, this company provides a great service that is very reliable! That's exactly what anyone would be looking for in a rubbish removal service company.