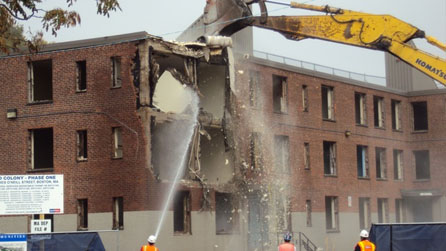 Murphy's General Demolition
There are so many different demolition companies that have entered the demolition industry that can sometimes be difficult to ascertain which one to choose when you have need of demolishing a partial or entire structure. You want a company that has a solid reputation, has been in business for years and has plenty of experience. That is easier said than done, though. If you are in the Boston area and are looking for a company that has years of experience and are qualified to do more than just demolish your structure then Murphy's General Demolition may be the right choice for you and your demolition needs.
How Murphy's General Demolition Came About
Companies have to start somewhere and it was 1986 for Bob Murphy and his business. He started a small company within the construction industry in Needham with a single truck, a used BobCat and a firm work ethic. He was ready to work and provide quality service and work to all customers that came his way. Because of that, his business grew quickly and he was able to bring in additional construction equipment as well as trucks. In 2001, Bob started a new building in Foxboro was then and still is now more adequate to accommodate his company's and his clients' needs. Foxboro is the main location for Murphy's General Construction and is available 24 hours a day for emergency services that require immediate attention.
Licensed, Insured, Bonded
Better known as Murphy General Contracting, the company is fully licensed, insured and bonded. For well over 20 years, the excavation company has served areas such as Weston, Needham, Brookline, Newton as well as the greater Boston Metrowest area. This is something that you would always want in the company that you choose to perform your demolition or construction project.

Being licensed means that the company is well aware of all the regulations and laws that are set into place and are likely to comply with them in addition to being well equipped and knowledgeable to execute the job properly. Being insured and bonded means that they have coverage should an incident occur on the job site and a mistake is made.
Services Offered
Murphy's has a large list of services that provide that extend above and beyond just demolition procedures. Here is a look at the services that they offer to their clients:
Demolition projects.
Fire hydrant installations.
Truck and equipment rentals.
Utility connections.
Water service installation and repair.
Sewer and septic service.
More About Murphy's General Demolition
The company is owned and operated by Bob Murphy but underneath him is a number of highly trained and qualified professionals that can operate necessary equipment and perform necessary job duties in order for a job to be done safely, efficiently and quickly. With each project, there will always be a construction supervisor on site to ensure that the project is completed on time, within the allotted budget and that results are of quality and to the satisfaction of the customer.