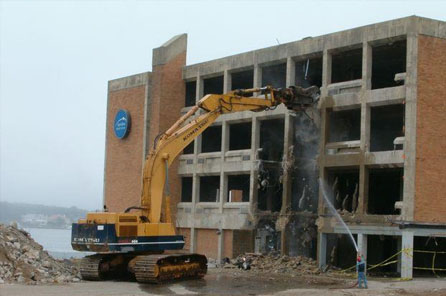 Demolition Parts Co
With their main headquarters stationed in Santa Fe Springs, California, Demolition Parts Co sells BMX products, protective pads and apparel. The company strives to maintain inventory of all of the latest equipment for BMX as well as stay up-to-date on the current news surrounding the industry in order to keep themselves as well informed or moreso than their customer base.
Available Products and Apparel at Demolition Parts Co
Demolition Parts Co has anything and everything that you need in order to build your demolition BMX bike. Some of the products carried are as follows:
Bars – Open or Suburban
Grips – Enarson, Missile, Waffle and Wise
Hubs – Bulimia, Phantom, Rogue and Rolls
Pegs – Dumbchuck or Team Peg
Seats – D-Seat, D-Fat or Mania
Tires – Baja, Momentum and Monaco
Wheels – Bulimia, Rogue, Rolls and Phantom
Miscellaneous Parts – Axles, Brake Pads, Cables, Hub Guards, Seat Clamps and Spokes
Some of their apparel is as follows:
T-Shirts – Available in Tabloid, Axes, Square Acid, Gypsy, Bandana and Parts Co (represent the company)
Hats – Available in D only
Long Sleeve – Available in Marker and War
Around the World Distribution Centers for Demolition Parts Co
Demolition Parts Co has distributors all over the world making it easy for their customers to receive their ordered products and/or apparel in a timely manner. The company has three distributors set up in the United States – California, New Jersey and Minnesota. There are also distributors in Burnaby, British Columbia, Canada; England United Kingdom; Athens, Greece; Budapest, Hungary; Pozman, Poland; Moscow, Russia; Buenos Aires, Argentina; Santiago, Chile; Barcelona, Spain; Cuenca, Ecuador; Shanghai, China; the Jhongshan District of Taipei City in Taiwan in addition to distributors located in France, Japan, Singapore, Malaysia, Philippines, Indonesia, Italy, New Zealand, Australia, Colombia, Denmark, Sweden, Norway, Iceland, Latvia, Ukraine and the Czech Republic.
Introducing Demolition Parts Co 2011 Pro Team and 2011 Am Team
The 2011 Pro Team consists of Chris Doyle, Jason Enns, Dave Dillewaard, Dave Osato, Dennis Enarson, Rob Wise and Ryan "Biz" Jordan.

The 2011 Am Team consists of Aaron Smith, Alfredo Mancuso, Pat Casey, Russ Barone, Connor Lodes, Lil' Stevie Churchill, Tate Roskelley, Matty Long, Christian Rigal, Bryant Shepherd, Drew Hosselton and Daniel "Lil-D" Martinez.
A Little About BMX
Very attractive to the younger demographic, BMX is a popular yet very unique sport that is considered to be the bicycle version of motocross and is said to have developed in the '70s in Southern California when bike racing took place on dirt tracks.

BMX utilizes specially designed and equipped bicycles. Some BMX races will take place on pavement but a lot take place on a dirt track. It really depends on your location, what you have available to you and what you preference is. You can take part in inline starts for extreme racing or you can participate in competition of freestyle BMX, which will allow you to perform tricks and stunts on your BMX bike.
BMX is a featured sport in the Olympics having made his first ever debut back in 2008 in Beijing.