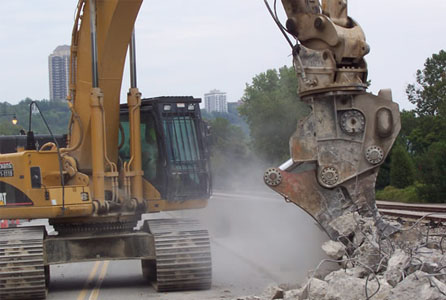 Concrete Demolition
Concrete is an essential part of all former and contemporary constructions. Primarily, concrete consists of cement, stone chips, and sand. These, when set with water, can become sufficiently hard and firm like stone. It can also be used along with bricks, stone, and wood to complement walls and doors. However, concrete too has a lifespan. Towards the end of its lifespan, it tends to become powdery, and falls apart. When this happens, it's suggested to demolish the structure and proceed to building a new structure. A permit may also be required for demolishing specific types of concrete structures. Such a permit is given by building authorities of the region.
Tools & Equipment
Concrete is rather hard to break with ordinary tools. Therefore, tools and equipment required to demolish concrete are specialized.  Some of the tools used for breaking concrete structures are either manually operated, or may be power operated tools. Normally, tools found in a concrete demolition site include:
Demolition hammers
Wire saw (diamond)
Hydraulic concrete crushing machine
Hydraulic splitting machine
Chipping hammer
Pavement breaker
Rotary hammer
Hydraulic hammer
Pneumatic hammer
Mounted breakers
Expansive agents for demolition and explosives may also be used for concrete demolition.
Costs of Concrete Demolition
Cost of concrete demolition depends upon several factors such as:
Size of the building
Location of the building
Age of the building
Height of the building
Access for demolishing various parts
Demolition rules and regulations applicable within each state
Other factors that affect the cost of concrete demolition include labor costs and costs related to tools and equipment that are used, in particular the consumables and equipment rental charges. Since many of the tools used for such work are power operated, cost of power also forms part of the demolition costs. Insurance for workers at the demolition site may also alter the total cost of the project, which in turn will be higher if the number of laborers is high.  Apart from all the mentioned factors, the time projected for the completion of the demolition plays an important part in the total cost as well. The longer the demolition takes the more money is required to pay for the project. If some of the materials are reusable,  there may be more time needed or more laborers needed to remove these objects.
Hiring a Contractor
Factors that need to be considered while hiring a contractor for any concrete demolition project include:
Experience of the contractor in the demolition field
Size and type of contractor's workforce
Type of equipment that is owned or can be accessed by the contractor
Record of any accidents on site where the contractor was at fault
In addition, the contractor should be able to adhere to any deadline that may be specified in the agreement. It's considered of high importance to always make clear specifications of how the waste is going to be managed and disposed of after the demolition is over. Some of the best-known concrete demolition contractors in the United States and Canada are:
Bluegrassbit
Debuck Construction
Combs Concrete