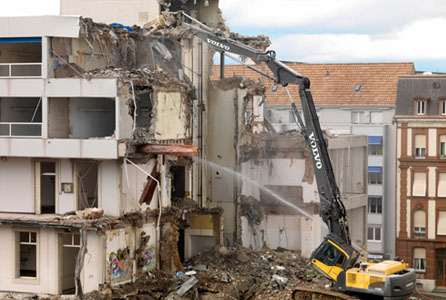 Construction Demolition
When carrying out a demolition project of a construction site, there are several healthy measures that ought to be taken to ensure health. There are standards established individually by every state on how a contractor is expected to handle the waste and materials. Lately, it has become common for contractors to salvage – or try to salvage – the majority of items that they find on site. The entire crew and project leaders must be aware of the hazards that come with construction demolition. A lot of times they might encounter alterations to the design, which may change their demolition strategy.
Managing the Waste
Whenever a construction demolition takes place, there are different types of waste that can be generated. It's important to know how the contractor will manage the waste because there are fines associated with its improper handling and disposal. While carrying out the demolition, you might generate any or all of the following waste materials:

• Hazardous waste – Materials that may contain asbestos or other unsafe material

• Reusable materials – This can include doors, glass, and lumber (ie anything that may be recycled)

• Regulated waste – Anything that cannot be reused and is not hazardous

• Clean fill – Such as soil, sand, and concrete that has not been contaminated

It's extremely important that you are aware beforehand on how the contractor will be disposing of these materials. Remember to keep in mind that although you may be contracting this work out, you may still be liable for the improper handling and you could face civil or even criminal penalties.
What Type of Equipment is Needed
When you're planning to hire a construction demolition contractor, first you must determine if the demolition is going to be a standard demolition or a high reach demolition. Once you have determined the intensity of the project, you will have a better idea on the equipment that will be needed. Even though the equipment is provided by the contractor, it's important that you're aware of all the aspects that are involved with your project. When it comes to standard demolitions, an excavator might be the most important piece of equipment. An excavator can handle concrete, wood, tile, and many other types of materials and can also determine if the excavator machine is configured properly to allow high reach stretching should the project need it.
Best Construction Demolition Contractors
Hiring an experienced construction demolition contractor is a critical decision that you will make. Choosing the right contractor will save you a lot of money and headaches, helping you to be sure that they are going to perform the job right. In order to find the best construction demolition contractor, you can aid yourself by verifying their credibility on websites such as the Better Business Bureau. If there are any complaints about a specific company, that's where you will be able to read problems with previous clients. Some of the best construction demolition contractors in the United States are:

• Brandenburg Demolition
• Archer Company USA
• D.H. Griffin Demolition Company
• DMD Services
• Controlled Demolition, Inc.