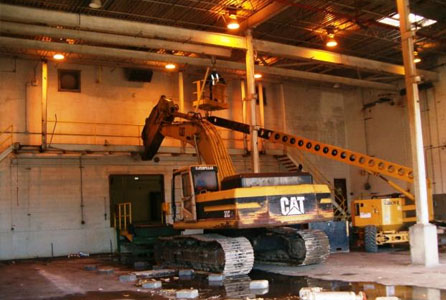 Interior Demolition
Interior demolition is the dismantling of carpets and other upholstery items like cardboard walls, wallpapers and rubbish removal services. Along with these kinds of services, most interior demolition companies also provide the following services:
Residential cleanouts
Estate cleanups
Container service
Salvage service
As part of the green movement, there are more companies now resorting to salvage reusable items and materials. There are companies that provide these kinds of demo and sorting services; their fee varies depending on the size of the project. Usually it will go up in price if there will be items from the demolition site brought to salvage yards.
Choosing the Right Demolition Crew
Before deciding on which company to hire for interior demo services, you should do an assessment of the local businesses that offer deconstruction and sorting services. The most important thing to consider when hiring is whether the contractor and staff are licensed and insured. Even though interior demolition isn't necessarily dangerous when practiced by skilled and experienced professionals, the use of wrecking balls, explosives, extractors and heavy equipment, there can still be unavoidable and tragic incidents that could be your liability without the right contract. In choosing the right demolition crew, consider experience on the job and education major factors. Often times there are cleaning crews that will be subcontracted when dealing with professional demolition experts. Interior demolition contractors and crew can also do trash removal, though the price will often reflect it and it will take longer.
Safety Precautions Strictly Observed
Interior demolitions only involve small tools and equipment such as crow bars, hammers, and other industry-specific tools for extracting upholstery items and fixtures. Interior demolition may appear easy to do, but in order to avoid unwanted accidents and any potential injuries if you aren't able to due to illness or age, you should hire a professional with years of experience in dismantling and extracting materials inside your home and any other establishment. Interior demolitions make use of smaller equipment such as:
Blow torches
Cutters
Drills
Saws
 Though these are commonly used tools, unsupervised use of this equipment while on the jobsite of demolition or dismantling jobs causes injuries. A trained professional should know when and where to use the necessary materials and equipment and should store their tools properly to avoid unsupervised handling.
Reduce, Reuse, Reinvent
Nowadays, demolition contractors are informing their clients ahead of time whether or not they'll be salvaging any reusable items and fixtures from a site demolition. In the case of an interior demolition, there are many reusable and recyclable items that can be sold at salvage yards and can be repaired and rebranded:
Kitchen and bathroom sinks
Mirrors
Stackable shelves
Cabinet parts
Other reusable items
 All of these can still be sold to other potential buyers who want to get huge savings through purchasing items that are still in excellent condition but previously installed. To help save the environment, reducing our waste can be accomplished through simply reusing and reworking the salvaged materials from interior demolitions.