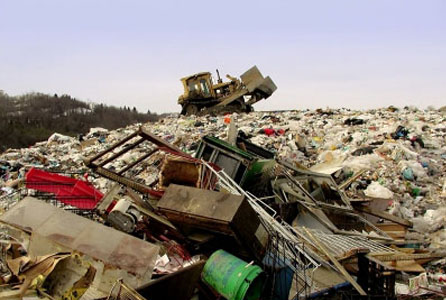 Demolition Waste
Demolition waste is generated when any building or structure is demolished. Though most structures are made from cement, sand and bricks, some may be made exclusively from materials that include metals, plastics and glass. The projects involving demolition waste or demolition are typically associated with concrete structures. Demolition waste includes materials that can't often be reused such as concrete, tar products and bricks. Most of the time there are materials that can be reused. By salvaging, using or selling recyclable materials, ten to thirty percent of the new building's cost can be recovered.
How to Manage Demolition Waste
Demolition waste needs to be segregated into its various usable and non-usable components. The first step in demolition waste management is to identify which parts of the building can be reused or recycled, then to ensure that reusable waste does not get mixed with the debris onsite. There are several material exchange businesses, it's possible to exchange some material accumulated through demolition for other materials that may be of more use to you for the new structure. In addition, transportation charges can be reduced by donating some of the usable items to local exchange companies, who in turn will come to transport the materials from the jobsite. Organizing visits from such companies that will readily come to the site and manage some waste material can go a long way in the budgeting of demolition and full reconstruction of a larger building.
Reducing Demolition Waste
When contracts for demolition and construction are given, the agreement can include clauses that ensure that waste is duly segregated at the time of demolition. Through this coordination of activities, a demolition contractor that can recycle reusable materials through disassembly, it's possible to reduce the material cost of a new construction plan. Reusable materials include:
Wooden doors
Window frames
Faucets
Metal pipes
Other interior decoration items
All of these can be recycled innovatively if identified prior to the planning of the demolition. Once the objects from the existing building(s) are identified as reusable items, instructions can be given to the demolition contractor or sub-contractor to save those items. 
Finding a Contractor
Demolition projects are not easy tasks to accomplish. It's not difficult for workers to get hurt if they are not following their safety guidelines. This means that a demolition contractor should have vast knowledge about construction as well as demolition. In addition, these contractors should be well acquainted with various rules and regulations applicable to demolition in the area. There might be laws that require them to follow specific guidelines. In addition, the contractor should have qualified team. Finding an experienced demolition contractor who is licensed for deconstruction activities is not too difficult. By using the internet, you will be able to access information about the top demolition contractors in the USA such as:
Brandenburg Industrial Service Co
Testa Corp
Midwest Steel
S.B. Cox, Inc.
Alarcon Bohm Corp.
It's always advisable to consult friends, relatives or acquaintances on their experiences with any of your shortlisted demolition contractors.